The financial and career educational game, made for this moment.
Make your mark by becoming a sponsor.

Claim Your Future® (CYF) is a proven, powerful game that encourages students to explore career pathways, financial decision making, and the future return on investment of post-secondary education and training. Developed by the Finance Authority of Maine, CYF began as a classroom game kit, but has since expanded into a digital experience to meet the needs of a changing educational landscape. There are two editions that cover critical years for learning and skills development: Middle School and Younger and High School and Beyond.
If financial education and career development align with your values and mission, consider the transformative potential of sponsorship of the new digital CYF or game kits -both for the educators and students they serve, and for your own organization's mission and goals.
Why Claim Your Future®?
Your sponsorship dollars go further. The success of "Claim Your Future®" is field-tested and proven: CYF has been played by more than 325,000 students, in all 50 states and 90 countries. Educators and students alike consistently report high levels of engagement and enjoyment—along with "aha!" moments of player insight. And it's been proven that, when students are more engaged, they retain more information. Join our current sponsors in making a difference in the lives of students.
There's never been a more urgent need for programs like this. Between the disruptions of the pandemic and current financial uncertainty, advancing financial education has never been more important—especially for young people. And as a game built to be played in all educational settings, CYF is adaptable and ideal for remote learning, hybrid classrooms, and independent lessons. It's exactly the tool that educators and students need, right now.
Your organization or brand can achieve lasting, positive recognition with teachers, students and students' parents. As a sponsor, your organization can engage with students and educators through everything from logo placements within the online game, to fifteen second video pre-roll before gameplay. It's a great chance to advance the mission of 21st century education while receiving recognition for your contributions. Participants engage with the digital game for an average of 15 minutes, and the classroom game for over 30 minutes. Students can play multiple times and at home with their families exploring different careers and budget choices.
To learn more about the benefits of becoming a sponsor, please contact Mike Friedman at michael.friedman@claimyourfuture.org, 207-620-3508.
We genuinely believe that CYF helps improve lives. Join us, and support tomorrow's workforce, consumers, and citizens when they need your help the most: right now.
We encourage you to experience the game first-hand, play the digital version.
Put Your Name
In the Game
For more information or to
request a demo, click the
button below or contact:
Mike Friedman
sales@claimyourfuture.org
207-620-3508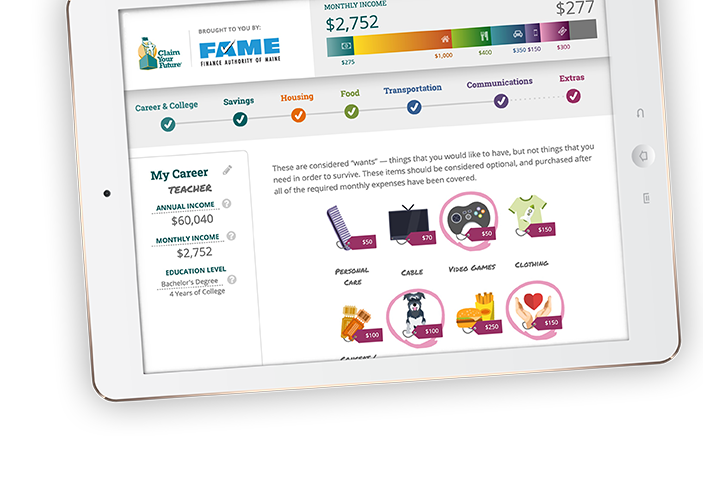 Sponsorship Benefits:
Customize digital game with your brand, up to 125 careers, local expenses, and salary levels.
Help students learn crucial life skills through an engaging, memorable game.
Game kits priced competitively at only $299 – less than $1 per student use. Volume discounts available.
FAQ for Potential Sponsors
Why is Claim Your Future valuable to sponsors, teachers, and students?
Sponsors buy Claim Your Future to expand their mission to promote financial wellness and/or associate their brand and organization with a high quality learning experience. It also allows them to connect with thousands of students of all ages – students spend between 15-45 minutes playing Claim Your Future, and years later, they remember playing the game and feel that it was positive experience.
Teachers value Claim Your Future as an "out-of-the-box lesson plan" that helps them engage students in a hands-on, memorable way that can be built upon for future lessons about careers, education and training after high school, and money management.
Students have fun and engage with one another, and often bring the lessons they learned home to share with their families.
What makes Claim Your Future unique?
A few key features set Claim Your Future apart from other financial education programs:
The game can be customized to include regional salary and living expense data, specific college and post-secondary credential options, and unique careers.
Students can play the classroom game kit at school, and then take the lesson home to play online with their family.
The game can be played in as little as one 45-minute session, or as part of a full unit on careers, or personal finance.
Organizations can co-brand both the classroom game kit and the digital game with their logo – see more branding information below.
Claim Your Future online and hand-held game kits are affordable compared to other options.
Claim Your Future was developed for and by educators at the Finance Authority of Maine (FAME) to help improve Maine students' financial capabilities. It has been so successful in Maine that we expanded the opportunity for other students outside of Maine. FAME's mission is to help families afford higher education in part through financial literacy programming. As a quasi-independent state agency, revenue we generate goes back into financial education for Maine people.
Who buys/sponsors Claim Your Future and why?
Claim Your Future has been purchased and/or co-branded by state agencies, nonprofit entities, GEAR UP organizations, schools, colleges and universities, credit unions, YMCAs, and many others. These organizations purchase the game to expand their brand and associate it with career and college planning, and/or financial education. Other interested partners include, Boys & Girls Clubs, scout troops, libraries, philanthropic foundations, 529 plans, organizations that provide services to college-bound students, corporations, and others.
Is Claim Your Future new?
No. FAME created Claim Your Future (formerly known as Get a Life) in 2008 and redesigned the game kit and website in 2015. Since the program was launched commercially, over 300,000 students from around the globe have played the game in the classroom and online.
Why do educators want to use a hand-held education game in a world of technology?
Many experts and educators believe that students learn best with "hands-on" activities in a group setting that encourages discussion with peers. In addition, high school students benefit tremendously by working with classmates to discuss future college and career plans.
According to the University of Washington Center for Teaching and Learning, "Engaging students in the learning process increases their attention and focus, motivates them to practice higher-level critical thinking skills and promotes meaningful learning experiences."
What advantages do using games in the classroom provide?
Student engagement. Classroom games encourage students to become more involved in the learning process and interact with other students. This type of engagement can help students understand new concepts or improve existing knowledge. When students are engaged in the learning process, they are more likely to retain the information they are learning.
Interest in learning. Traditional teaching methods are not always enough to hold students' interest. For some students, being able to actively participate in classroom games can promote a deeper appreciation for the material they are learning and a stronger interest in the learning process.
Skill development. Games in the classroom do more than just provide students with educational experience. They can also help students work on several important skills, including social skills and critical-thinking skills. Games provide students with the opportunity to learn about teamwork and practice resolving conflicts or disagreements with other students. They can help students learn how to examine information critically as well.*
Want to learn more? See it in action!
*Source:
https://www.msta.org/stories/games-enhance-learning/
Missouri State Teachers Association, February 24, 2016
Do students play the digital version too?
Yes! Hundreds of thousands of students from every state and as far away as Australia have played Claim Your Future online. The best part is, organizations can brand a unique, online CYF website and bring it to their constituent students, customers, users, etc. Each site has its own sub-domain website address to help attract your audience.
What do current users say about Claim Your Future?
Students and teachers love Claim Your Future! Hear what they have to say on these videos.
"It's an engaging activity for students in the moment, but it's also memorable. After using Claim Your Future in class last spring, students are still referencing the knowledge they gained from the activity this fall." ~Vermont educator
"Claim Your Future promotes hands-on and minds-on learning and engages students through experiential learning. Best of all, it challenges them to practice critical thinking and decision-making skills, while offering a memorable experience that can be used at home." ~Kristie Littlefield, Executive Director, Western Maine Education Collaborative
"The kit was so easy to use! You just open the box and in minutes you can be engaging the students. It was amazing how much they learned – so many "ah-ha!" moments!" ~Kathy Boucher, teacher
"Claim Your Future was fun! We learned about how the choices we make for college, jobs, and buying things affect our money. It made me think about what I have to do now and in the future." ~Natalie, 6th grade student
"This was eye-opening and fun to compare with friends. I hadn't thought about all the expenses I will have after college. I'm looking forward to playing at home with Mom – she will be floored!" ~Donna, 10th grade student
Who plays Claim Your Future?
Claim Your Future was designed for and is successfully used by high school and junior high students. The game has been played by younger elementary school students, college students, and even adults. The online game is played around the globe and the handheld game kit is played around the nation.
How are the game kits priced? Can we get a volume discount?
The kits are sold for a retail price of $299 each. Volume, non-profit discounts, and/or discounts with online licensing purchase are available. Customization is available for orders of 100 kits or more. Each kit contains 50 career wheels which can be played by multiple grades and classes and serve hundreds of students, often costing less than $1 per student game play.
How is the digital version licensed and for how much?
The CYF digital version hosts up to 125 careers and can be licensed for your intended audience for as low as $2,000 per month. There are micro and national websites available. Call Mike Friedman, 207-620-3508, for pricing.
How can it be white labeled or branded for buyer organizations?
Both the hand-held game kits and the digital version can be branded with the logo of a buyer/sponsor organization, such as a nonprofit, college or university, financial institution or other agency. Contact Mike Friedman to learn more, 207-620-3508. Organizations that have decided to brand their CYF purchase have done so to assist students in planning for life after high school and to expand their brand recognition.
Who should we contact to discuss sponsoring CYF?
Claim Your Future -
Watch Us Play
"Claim Your Future engages students through hands-on and minds-on learning, challenging them to practice critical thinking and decision-making skills. Best of all, it offers a memorable classroom experience that students talk about long after the game ends."
KRISTIE LITTLEFIELD, EXECUTIVE DIRECTOR, WESTERN MAINE EDUCATION COLLABORATIVE